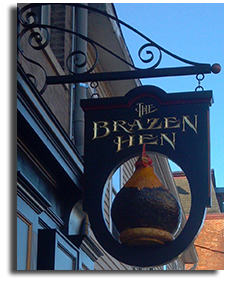 Welcome to The Brazen Hen
The Brazen Hen is an upscale Irish pub located in Westerly, RI. Newly renovated, The Brazen Hen offers high ceilings, street front parking and a spacious dining room. The bar is warmly decorated offering high-tops and stools with seats for 60+; the patio is the perfect summer spot. The menus offer traditional New England fare from fish sandwiches and chowder to classic Irish fare like the Guinness French Onion Soup and Bangers and Mash. The Brazen Hen has 10 beers on draft, with Ireland represented by Guinness, Smithwicks and Harp. Free Trivia with TriviAcademy is held on Thursday, Live music is offered on Friday Night, and Karaoke on Fridays w/ DJ Deelish.

Mystic's Harp & Hound, and The Black Sheep in Niantic are sister restaurants to The Hen and have quickly become staples of their respective towns. With courteous staff, live entertainment and delicious menu choices; The Hen is already garnering rave reviews so stop in, grab a Guinness and enjoy Westerly's newest hot spot.